Sugar Daddy Meet Review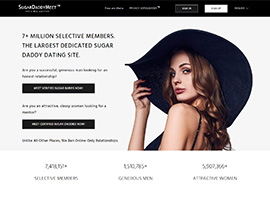 SugarDaddyMeet is a straight sugar daddy dating site for wealthy male sugar daddies and female sugar babies. It has been online for more than 10 years and has a plenty of active members. Besides, the features of this website is very useful, like "Certified Daddies" can help sugar babies to recognize real rich sugar daddy and "First Date Gift" can help sugar daddies to win the heart of sugar babies. It also has a good looking mobile version website and app. In a word, SugarDaddyMeet is the best service to find a sugar daddy or sugar baby online.
Pricing
Standard membership is just like holding a free account on SugarDaddyMeet.com; it lets you access many of its features without charging you a penny. With free membership you can surf through the profiles of other members and carry a quick search to check if the site can help you find your perfect match. You can upload a maximum of 26 photos to generate more interests in your profile; each photo can be up to 5 MB.
Standard membership helps you in sending free winks to start the conversation with the member with whom you think can be your perfect sugar baby or sugar daddy. In addition, you can reply to the messages sent to your inbox by other members. You can also send greeting or birthday cards, comment on the forums of online communities and highlight yourself.
The gold membership is a paid membership that can be obtained in three ways.
Save 20% and pay $50 (approximately $1.50 per day) instead of $60 for 1-month trial
Save 50% and pay $90 (approximately $30 per month) instead of $180 for a 3-month membership
Save 60% and pay $144 (approximately $24 per month) instead of $360 for a 6-month package
You can make the payment through PayPal, check cards or credit cards.
Writing press releases, articles or recommending us to other sites for partnership can earn you a free gold membership. In addition, you can advise or propose suggestions that can benefit the rest of the members.
Features
There are multiple features of SugarDaddyMeet.com that can help you in getting connected to your perfect match. Online chat, receiving or replying to the emails, creating blogs or commenting through the forums are a few of the basic attributes to get noticed and shine in the limelight. You can create and update your profile according to your interest. While browsing, if you come across any interesting profile, you can simply add it to the favorite list.
SugarDaddyMeet.com lets you upload your photographs and increase your visibility on the website. The photos go live in 24-72 hours as every photo is approved by their staff for maintaining privacy and quality; however, you can call them up for express approvals. You are even offered to have a live chat with members who are online. The instant messaging service channelizes you to view and connect with the list of sugar daddies or sugar babies.
Pros
SugarDaddyMeet.com involves a verification system to validate and confirm your photo, occupation, income and age. While you have to spend hundreds of dollars to validate your updated information on any other site, SugarDaddyMeet makes it free of cost. A verified account is far better than the unregistered users as most of the people opt for accounts that have been confirmed by the site. This dating website has a startling feature of filling you with an incredible list of dating ideas and some quick quirky tips for your dating life.
Cons
Dating a sugar daddy can be secretive if he is a man with a family. People around you can be worried as you may spend a lot of time doing nothing, whereas girls of your age are busy working hard to have successful lives. Hence, sugar babies often have to lie to their relatives or friends and families. The major weakness in dating a sugar daddy is that you cannot guarantee anything about your relationship. If your partner is bored with you, he may end this relationship and leave you. There are not many chances of sugar babies marrying sugar daddies.
Editor's verdict
The cons can be avoided if you have chosen a partner who really cares and has fallen head over heels for you. SugarDaddyMeet.com helps you skim through almost 3,500,000 eminent members and find that ideal match. If you are looking for casual dating, this website is the one for you. The profiles of the members of SugarDaddyMeet.com are clear and concise in explaining expectations.
As sugar daddies can discover young, bold and beautiful ladies, sugar babies can find men who are rich enough to spend on their every habit. You have to do nothing but enjoy life once you start dating through SugarDaddyMeet.com.