Sugar Daddie Review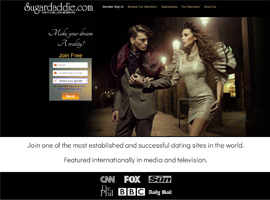 SugarDaddie is the first ever website that brought the concept of sugar daddies and sugar babies to the world. It is a high quality dating site for attractive single women and rich men who have financial security and confidence. It caters to people who are aware of the finer things in life and understand that good living is not a luxury, but a necessity. Launched in the year 2002, it has become a recognized millionaire and sugar daddy dating site. You can be a paid member or choose a premium membership account holder to enjoy their dating service.
Price
All the residents from the US, the UK, Australia and Canada can enjoy the benefits of SugarDaddie.com. You can sign up with both paid and free memberships. The free membership lets you upload only three photographs on your profile, browse through the listed accounts and reply to emails or messages. On the other hand, you can start a conversation with other members if you have an upgraded to a paid membership account.
You need to provide all the basic details about yourself, including your social habits, location and short description about your nature and personality in the profile. The paid membership helps you in hot-listing members, unlike the free membership package. In addition, you can search the site for specific profiles through saved searches, recent members and photographs.
You can easily sign up and use the basic membership without any charge. However, you can enjoy the extra features by upgrading your account to the Premium Membership.
Pay $21.99 for one-month trial.
Pay $32.99 (about $19 per month) for a two-month membership.
Pay $43.99 (about $17 per month) for a three-month package.
Pay $76.99 (about $15 per month) for six-months.
Pay $109.99 (about $11 per month) for one year premium membership.
You can make the payment through PayPal, Credit Card, Mail or Phone.
Features
SugarDaddie.com does not charge you while you place your profile on the site, search for new members in the community or upload images to enhance your visibility. You can add or remove members from blacked or favorites list. Contributing with suggestions, comments or advices to the online forums, using the instant messaging service, receiving or sending emails and messages are a few of the basic features at SugarDaddie.com.
As SugarDaddie.com has a large member base, you can keep checking the new members who have registered on the site. Search them on the basis of their personal information, location and username or view the last logged in time of the member on the website.
Pros
SugarDaddie.com is a renowned millionaire dating site and has drawn media fame with its unique aspects. Unlike other sites, this website does not bill your credit card automatically or auto-renew the membership. With just one click, you can search for new members or members who have hot-listed you based on your profile. In addition, the one week price is quite economical to give this website a try to date rich men with no boundaries.
Cons
While filling in the details on the profile, the sugar daddies and the sugar babies have to mention their income level. There is no verification process carried to confirm the mentioned income. This leads to fraud as anybody can punch in any band of income on their accounts. Another drawback falls in the search section. You can search for rich men or bold ladies who belong to only your geographic location, but cannot browse for specific locations as the town or the city of the user is not mentioned in the profile.
In addition, SugarDaddie.com does not have any feature for sending a flirt or a message; however, you can send emails to people who interest you. You cannot expect instant replies from members whom you have emailed as they may not be very active. Hence, you may have to stay patient and wait for a specific time or move on with the next.
Editor's Verdict
SugarDaddie.com is one of the top class websites for millionaires and it offers many dating tips and advices. You can ensure yourself to browse good accounts as it verifies and confirms each profile. The large base of millionaire sugar daddies and model sugar babies help you select your perfect match. Being popular through media and television, SugarDaddie.com has become a very prevalent wealthy men dating site for the young ladies.