Behind Prince William's Affair: Extra Tasks after Marrying Rich Men
Recently, Prince William has been involved in some kind of "affair" which is still being investigated. Also, William and Harry have separated their households. Experts argue that this could have been prettier if their separation happened in 2018 when Prince Harry married Meghan Markle. Apparently, marrying a rich man involves some extra tasks that you may want to be aware of - do you know any of the following possibilities?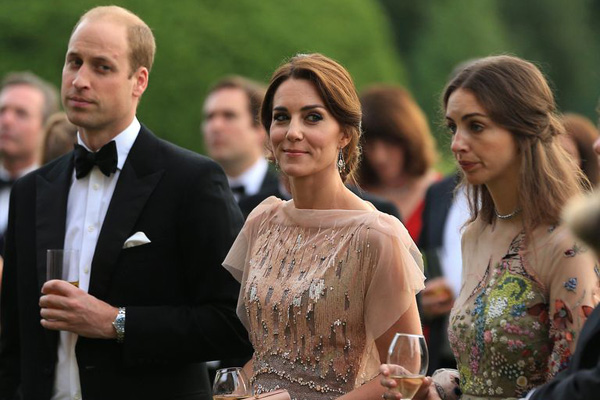 Are you able to respond to your rich husband's rumors or affairs well? Rose Hanbury has recently appeared in sensational news all over the world because of her so-called "affair" with Prince William. Although we are not sure if that's real, we can confirm that being married to a millionaire man means you have to cope with rumors at times, no matter those rumors are true or not. According to Cosmopolitan, Kate Middle has told Prince William to stop talking to Rose Hanbury, so the general public began to think perhaps Prince William has been cheating on Kate. (By the way, before William married Kate, they broke up once.) The truth is if you are married to a rich man, other women around you and your wealthy husband will look at both of you. Other women are thinking, "Who is prettier, me or this wealthy guy's wife?" "Wow. This guy not only has money, but also has a good-looking wife, so he must be really high-value. Is there a way for me to get his attention so that I can feel some validation?" In Robert Greene's new book The Laws of Human Nature, he talks about why jealousy is a part of human nature. Anyway, if your husband is wealthy, you will need to watch other women around you and him. Can you do that effectively without pushing your millionaire husband away?
Are you able to handle the pressure from a big audience? When William and Kate were still dating, Kate was followed everywhere by journalists ALL THE TIME. Furthermore, Prince Harry's ex-girlfriends left him because they were not able to deal with the pressure from paparazzi. In fact, you don't need to date a prince in order to appear in the spotlight. As long as you are married to a relatively wealthy man, he definitely has an existing social circle that is full of powerful people. No matter he is a self-made entrepreneur or an heir, he certainly has a group of successful people around him because no one can do it alone. Motivational speaker and author Jim Rohn once said, "You are the average of the five people you spend the most time with." That means your rich man surely has a lot of rich family members and successful friends. Once you are married to a rich husband, everyone in his family and social circle will scrutinize you. For example, now Prince Harry and Meghan Markle have unfollowed Prince William and Kate Middleton on Instagram; consequently, everyone is talking about their problem. If you are married to an influential and wealthy guy with a big following, can you handle that?
When your millionaire guy needs to move to another city/country, are you willing to give up your existing local resources? Before Meghan Markle married Prince Harry, she was already a millionaire because she became relatively successful and famous in Hollywood, although she wasn't an A-list movie star. That is to say, Meghan was already a self-made successful woman before meeting Harry; otherwise, she would meet Prince Harry in the first place. After she got married, she had to give up her career in North America and must move to England to live with Prince Harry. Now since Prince Harry and Prince William have separated their households, Meghan needs to move away with Harry again. If you are married to a rich man and have to move countries or cities for him, are you happy to give up what you've already accumulated in your local area?
Marry rich men isn't just about love and money; it also brings a lot of extra responsibilities and tasks that you have to deal with. Are you ready for those?