Rich Men Hookup Review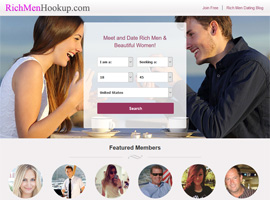 RichMenHookup is catering to rich men and their admirers and aims to match its users based on financial prosperity. In this day and age, online social activities, especially online dating has already become mainstream. The site is not just for millionaires, but also for those who are seeking a higher quality of potential matches. It has a massive number of followers - either you are young and beautiful women, old and rich men, or just something in between, the site can give you the chance to live the lifestyle that you want.
Sign-up Process
To sign up and build your own profile, it's a fairly painless experience. Still, a more personalized sign-up process is offered than most other competitors. One thing needs to point out, if you want to present yourself as a rich people on the site, you might need to be honest when choosing your annual income range, because the site has one Verification system in place which may require you to provide valid proof. Other basic info like your zip code, height, body type, ethnicity, and relationship status, you can easily select from drop-down menus. After that, you will be asked to upload a profile photo, which is also highly recommended if you are serious enough about this game. Otherwise, you can also skip it to the next section to write detailed description about yourself and your ideal matches. And no need to worry if you make any mistakes, or any new ideas come up later on, because you can change these parts at any time. In the end, a verification email will be sent to your email address, after verifying it, you are all set and ready to start!
Main features
Basic & Advanced Search
For standard members, simple search options like age, general location and gender are available. While for gold members, a lot more filters including income level, height, body type, religion, and relationship status will be unlocked. Whatever search results you get through those above filters, you can further narrow them down by specifying your match's distance from your own location. Other criteria such as keyword and relationship type are also proved helpful. As an important additional feature, Advanced Search allows paid users to be much more specific in their queries when finding more compatible matches.
Verification
First of all, the Verification is optional (except for the email verification mentioned earlier which is mandatory). To put it another way, everything you say about yourself is purely on the honor system until you decide to prove it to others, mainly your photo and your income. We all understand that the site introduces the feature to fight spammers, fake users, and even scam artists, to create a safe and secure environment. Another reason why we suggest you do it is to show other users you are authentic, sincere and trustworthy, thus you can get more attentions and responses. However, you must be a paid member first so as to get yourself certified as a millionaire.
Relationship Counselor
This is a warm and special feature for those who need dating tips, tricks and guidance timely, because there is literally a dating coach staying online to assist you whenever you are in need, answer your questions whenever you are in doubt, by the means of online chatting and email. And this premium feature is only accessible to paid gold members.
Members' Luxuries
The site has this unique and new area where rich people can display photos of their expensive and treasured items, under the category of Arts & Culture, Autos, Aviation, Boats, Electronics, Fashion, Food & Spirits, Home Décor, Jewelry, Leisure, Real Estate and Others. You can also sort those shared photos as per popularity and poster's gender. And there is a camera tab by which you can easily add and manage your luxuries.
Price for Gold Members
6 months to be billed in 1 EASY payment of $240
3 months to be billed in 1 EASY payment of $135
1 months to be billed in 1 EASY payment of $70
Credit Card, PayPal and Bank Check are all accepted. Please note that the site has the right to make changes to the subscription plans without prior notice.
Pros
Free from annoying ads both for standard and paid gold members
Convenient Facebook Sign-in
Easy to get started, and free account available to test the water
Verification system and certified millionaires
Active community with many genuine and authentic millionaires and very few scammers
User-friendly interface, constantly updated features and professional customer service
Easy connect via various communication tools like messaging, forum, live chat and blogs
Mobile apps available
Cons
Not compulsory to get verified or certified
More women than men users on the site
Lack of video or audio chatting features
Final Verdict
As a competitive member in the millionaire dating niche field, RichemenHookup.com is not exclusively for those affluent social elites, non-millionaires who want to date and have relationship with someone financially successful are also allowed to join. Though free accounts are only provided with limited functionality, standard users can still have a general idea about the site. Gold membership will lift all restrictions and let you get on chatting and flirting freely. Through this platform, you can meet people from other walks of life, to get acquainted with highly influential people if you are not financially well off. While it's true that membership costs a little higher than other sites, we strongly feel that you will get what you pay for both in terms of quantity and quality. All you need to do is just sign up and give it a try!