Established Men Review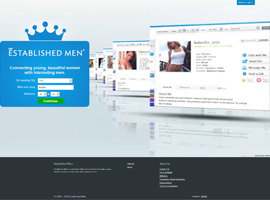 Launched in 2008, EstablishedMen is the premier online dating service that connects young, beautiful women with rich, successful men. The website is pretty biased as the membership is free for girls who are in search of rich men; however, the wealthy men can avail all the benefits of EstablishedMen after paying for the subscription. So it pulls more beautiful sugar babies than rich sugar daddies. Meanwhile, EstablishedMen has easy user interface, it lets you enjoy some of the exclusive features such as sending gift or voicemail to the person you like.
Price
The basic membership is free from any charge. Therefore, you can just sign up, and start seeking partners for dating. The free membership lets you message the other members with free flirts. On the other hand, the perfect princess can send virtual gifts and messages to the rich and established men.
You can update to premium membership with one or three month package.
With $79 (about $2.63 every day), you receive 100 credits for one-month membership.
With $147 (about $49 per month), you receive 300 credits for a three-month membership.
The credits help you buy gifts for your young ladies. You can make the payment through credit card or PayPal.
Features
You are free to upload images, taglines or personal ads at the site of Established Men. If you are a free member and want to initiate the chat, you can send a free flirt to the successful men to catch his attention. If you are a standard member, you can upload up to 3 photographs and share it with your ideal partner while hiding it from public.
In addition, EstablishedMen.com lets you send voicemails unlike other sites where you can just chat. The search section is pretty interesting as you can refine your search results with body type, keywords, language and ethnicity.
Pros
Men can easily get as many dates as they want on the site of Established Men as the ratio of ladies to men is about four to one. The best part of this website is that most of the ladies know the real purpose for signing up to the website; hence, they are not often embarrassed or humiliated. EstablishedMen.com is all for young ladies wanting to have relationships with rich and established men who can look after them financially. Simultaneously, it is for rich men who are successful enough to fulfill the wish-lists of young ladies they find interesting in return of a flirty relationship.
As most of the sugar daddies are rich and old, the site is not complex to use. Voice is an important aspect; you just cannot stand by any man or girl whose voice you do not want to hear. The voicemail feature is a great option to choose as you can send personalized voice messages to the members you like. This voicemail does not have any download option; you can simply call up the toll free number and record your voice with a message for your date.
Cons
At EstablishedMen.com, most of the rich men are old. It is obvious that you would see wealthy and successful men who have established themselves professionally and are now seeking help to find girls who can be their sugar babies for the rest of their lives.
The male members of the site need to undergo severe vetting process; however, the ladies are free from any stringent verification practice. It looks like EstablishedMen.com is managed via computers. Most of the profiles speak similar lines while introducing themselves. If you are a young college student, be careful to abide all the laws and detect pedophiles.
Editor's Verdict
EstablishedMen.com is a convenient and easy website to use. Attractive singles, no fee, and a simple website are a few of the considering aspects of this community to get a kick start to your dating life. The personal messaging system for dating helps you to introduce yourself to the host of young sugar babies signed up to have interesting lives. The word 'established' takes 'dating' to a complete another level by adding a little elegant essence to Established Men. The expectations mentioned by sugar babies and sugar daddies on the website are clear and concise.
The high membership fee, unlike the other sites, is something crucial to pay for rich men who are good at investments but not so good in shelling out money just for serving the purpose of dating. Though the site has a stringent verification purpose, the actual income is not verified when the 'rich' man selects the income range. Hence, a poor guy can pretend to be rich, fake a business and get away with it.
However, you can just sign up to EstablishedMen.com, browse through the profiles to look for a bold lady or a rich man, and you are on your way for a fantastic evening.