Seeking Arrangement Review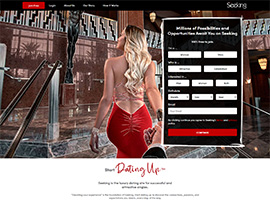 Seeking Arrangement has been rebranded, so now its URL is Seeking.com - very inspiring and enlightening. As the most successful sugar daddy dating site in the world, this platform sometimes has 10,000 new members per day. Approximately 80% of their members are women & 20% of their members are men. Clearly, there are enough sugar babies for sugar daddies to choose.
Features:
Anyone who creates a dating profile with a university's email address can become a premium member for free. That means if an email address has ".edu" in it, this account automatically becomes a premium VIP member on this dating site. This is a way to encourage university students to join Seeking.com so that the quality of sugar babies is always very high. Of course, many university students do not want to have student debt and are looking forward to dating sugar daddies (AKA sponsors).
Seeking Arrangement uses the most advanced technology to identify which photos aren't legitimate, e.g. if someone uses another person's photo as their own, the system will find it out because its intelligent technology can figure out which photos are downloaded from the Internet directly.
Social media verification: A member can verify their LinkedIn, Instagram and Facebook accounts. This will improve this dating profile's Search Engine Optimization (SEO) in the database – the right people are more likely to see this dating profile.
Photo verification: A member can take another photo which is similar to the photo they have uploaded on their dating profile. Once Seeking Arrangement has verified the photo, this dating profile's visibility will be improved as well.
Send and receive online messages.
A sugar baby can create a wish list so that the potential sugar daddy knows what to buy for her.
A sugar daddy can specify his annual income, net worth and profession on his dating profile.
Pricing:
The site offers different membership fees for Sugar Daddies / Mommas and Sugar Babies
The 30-day membership fee for Sugar Babies: $19.95
The 30-day membership fee for Sugar Daddies: $89.95
The 90-day membership fee for Sugar Daddies: $239.85
On Seeking Android app, the membership fee for Sugar Daddies is a little different:
The 7-day membership fee for Sugar Daddies: $24.99
The 90-day membership fee for Sugar Daddies: $89.99
Please note that the prices do vary from time to time, so a new user must check its official site to confirm the current pricing before joining this dating website.
Pros:
Its technology is the most advanced in the industry, which makes Seeking Arrangement the best sugar daddy dating website in the world. Hands down. When a member wants to leave the site, they can delete their dating profile permanently.
Every 6 months or so, Seeking.com sends an email to the '.edu' email address to see whether this candidate is still a university student or not. This is a way to make sure the sugar baby is actually a university student when she is using a premium account. Every candidate is legit.
People on this dating site are looking for arrangements which are also meaningful relationships rather than transactions.
This is the only place where male sugar babies can meet sugar mommas because sugar mommas are rare. Yet there are enough sugar mommas for toy boys on Seeking Arrangement because its database is huge. For example, after conducting a search in its database (sugar mommas in New York), we saw many attractive mature women in their 40s looking for handsome young men from 20 to 37 years of age.
Cons:
Due to some policy changes, nowadays Android app users cannot view enough content on the app anymore. They must use its website version instead.
Probably it is still not available on Apple because Apple has removed all sugar daddy dating apps.
Executive summary:
Seeking Arrangement is the only sugar daddy dating site people need if they would like to meet the right candidates for arrangements instead of traditional relationships that are full of stress, drama and manipulation. On this dating platform, honesty is the best policy!