Dating Rich Men after D&G's Controversy - New Hierarchy of Luxury Brands
When you are dating a rich man, chances are he often buys you expensive jewelry, clothes, shoes and bags. Since there has been some drama about D&G these days, we'd like to review luxury brands' hierarchy today so that you'll understand the level of investment from your wealthy man!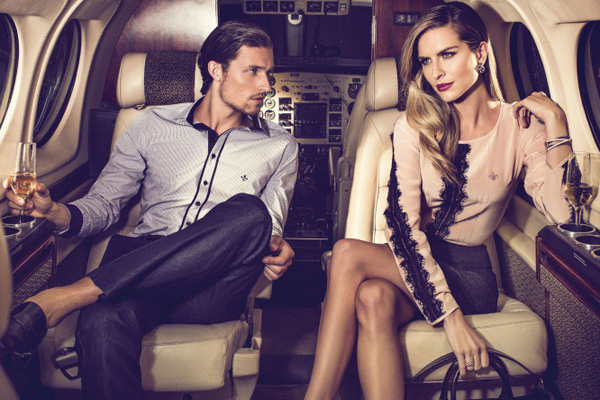 Entry-level luxury brands: Georg Jensen, Coach and Alannah Hill
These brands are very basic - if a guy refuses to buy you something from these stores, he mustn't be a real millionaire man. Therefore, asking him to buy a necklace from Georg Jensen is an effective way to test whether he is a legitimate rich guy or not. If he says no to a 200-dollar necklace, you should leave him as soon as possible because he is either a fake millionaire or extremely cheap (i.e. he has money, but he just doesn't want to spend his money on you). Other similar brands are Ted Baker, Kate Spade and DKNY.
Mid-level luxury brands: Michael Kors, Burberry and D & G
Because D&G created a racism storm in China (they posted a series of videos in which a Chinese model was eating Italian foods such as pasta and pizza with chopsticks - the ambience of these videos was very wrong), its fashion show in Shanghai has been cancelled and this brand's products have been removed from online shopping sites in China which is their biggest market in the world. That means D&G won't have enough funds to develop high-quality products and compete with other high-end brands; therefore, D&G has officially dropped its status now. Experts call this "brand suicide". In fact, D&G also had other racism drama before this incident - previously, D&G posted a campaign on social media which showed poor people in run-down areas of Beijing pictured with D&G models right before a fashion show in China (deliberately showing the poor aspect of Beijing was disrespectful). Consequently, if your wealthy guy buys you something from D&G, it might indicate that he doesn't care about the importance of respecting people. Perhaps he likes you, but he doesn't necessarily respect you. Also, why should he buy a product from D&G when he can afford to buy something better? By the way, if your rich man is aware of D&G's controversy and he still purchases D&G products for you, that might suggest he wants to use D&G's high-end image to impress you, although in reality, D&G isn't really high-end these days, because he thinks D&G looks better than other mid-level luxury brands such as Marc by Mark Jacobs, Diesel and Juicy Couture.
High-end luxury brands: Chanel, Gucci and Tiffany & Co.
Of course, a truly wealthy man will buy you stuff from high-end luxury brands. Please be aware that if a millionaire guy wears Gucci himself but he buys you a handbag from Coach or Michael Kors, something must be very wrong - chances are he is a selfish man who doesn't want to share his resources with his woman. As a result, you must pay attention to what clothes he wears and what he buys for you. Other similar brands in this category are Cartier, LV and Prada.
Ultra-high-end luxury brands: Graff, Harry Winston and Hermes
Make sure you marry this millionaire man if he buys you anything from this category of luxury brands. If he gives you a Hermes handbag for your birthday, you can expect him to buy you an engagement ring from Harry Winston! This is your return on investment when it comes to millionaire dating.
Which luxury brand's products has your rich boyfriend bought you so far? If you don't have a rich husband or boyfriend yet, don't forget that there are many single rich men looking for love online.