Secret Benefits Review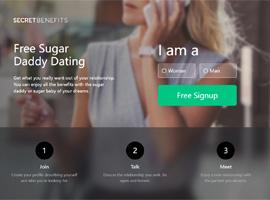 Launched in 2015, Secret Benefits is a sugar daddy dating site for generous members and attractive members who are looking for the sweetest way of life. It's a high-quality website that is very mobile-friendly, although it doesn't have an app that people could download. Actually, a lot of sugar dating sites don't have apps, but their websites are very easy to use.
Pricing
FREE to sign up.
Introductory membership (100 credits): $59
Elite membership (500 credits): $169
Best value membership (1,000 credits): $289
Please note that pricing may change without prior notice.
Features
Signing up is quick and easy: It only takes men about 5 minutes to sign up. More exactly, a man needs to offer his email address, age, user name, password as well as ethnicity, and then he can upload his photo. That being said, men don't have to upload photos in order to finish the signing up process, but men must provide basic information such as goals on the website & a bio. It takes women approximately 10 minutes to sign up on SecretBenefits.com. To be more specific, a woman has to provide her email address, age, body type, location, ethnicity, user name and password first, and then she needs to upload 6 photos (minimum) without nudity, text or filters. Also, a bio, goals on the site, a tagline as well as a description about why this member is a great sugar baby are required. A sugar baby is supposed to upload 4 more private pictures and then add her telephone number to her profile.
Secret video and photo albums: Attractive members are able to upload videos and photos to their secret albums. The viewer needs to use 10 credits in order to view a secret album. Usually, conversations start after viewing an album!
Verification: both generous members and attractive members can use the website's verification system to avoid scams online.
Credits: Sugar daddies buy credits in order to use the website properly, so there is no recurring subscription every month. Meanwhile, sugar babies can use this website for free.
Customer service: This website has a customer support page where most questions are answered. In addition, people can contact their staff members via a contact form on the site. It is said that their customer support team responds to messages quite fast. What's more, sugar daddies are able to buy priority customer support features via credits.
Pros
SecretBenefits.com use the most advanced technology to verify its users, so it is definitely very safe. What's more, verifying a profile is quick and easy.
It's absolutely free for attractive members.
Due to the credits system, monthly subscriptions are not required. In other words, users can control how their money is spent on the platform.
This site doesn't have a lot of unnecessary features; it's obviously streamlined!
Cons
Because SecretBenefits.com doesn't have a mobile app, members can only use its website.
Its search function isn't very advanced.
Video chat isn't available, so members who are good writers can get what they want faster – it's all about how they write messages!
Author's Verdict
SecretBenefits is for those who are serious about the wonderful sugar dating way of life. Sugar babies and sugar daddies can verify their profiles via a video chat with the website's moderator who will approve the verification if the account is valid (this only takes about one minute, but the actual photo verification takes roughly 2 days). Actually, a sugar relationship doesn't have to be a sexual relationship; any type of companionship is possible in the sugar bowl.