Does Dating a Rich Man Bring Happiness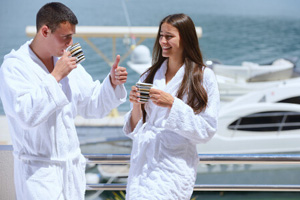 Dating a rich man is the dream of many modern women.
But an often overlooked question is: does dating a rich man bring any more happiness and joy to a typical woman's life than dating or marrying an ordinary man; in other words, do you marry for love or for money?
Of course, it's possible to date or marry for love and money but, in some cases, marrying a rich man means that the lady in question may have to forgo a number of things which otherwise she may have been able to enjoy or pursue.
These may include issues such as:
Rich men may not want their girlfriend or wives to work as there is no need for that extra money she may be able to earn and, therefore, the women may have to sacrifice her career
Sometimes rich men are devoted to their work and may, in reality have little private time for the woman in their life
The girlfriend or wife of a rich man may be under more scrutiny and her public actions carefully watched, especially if the rich man is also famous; there may be limited privacy in her life
Security may be a bigger issue for the spouse and the immediate family of a rich man, as there will always be unscrupulous people looking to take advantage of someone else's wealth
Notwithstanding the foregoing, the advantages of dating a rich man usually far outweigh these issues and most women seem to find happiness and contentment in such a relationship. This may be for some of the following reasons:
She will be financially secure, able to have most things she desires
Usually rich men and their spouses can enjoy frequent travel to interesting or exotic places, either on business or pleasure
Most rich men, once they find someone compatible whom they enjoy being with (whether they met through one of the popular rich people dating sites or otherwise), will do whatever it takes to maintain the relationship and, often, will be have a kind, loving persona - and one which may be at odds to their tougher business demeanour
Dating or marrying a rich man can lead to a variety of opportunities for the women in question - and possibly which she may never have had otherwise; some women end up in business situations with their rich spouses or in fact, may have met their partners through having a shared mutual interests
So, whilst there are no hard and fast rules about whether dating a rich men or using a dating site specially set up for finding a rich man can bring a woman happiness, more often than not such relationships seem to work for the long term.